Laundromats, Convenient & Cost Effective Franchise | Washiteria
Laundromats, Convenient & Cost Effective Washiteria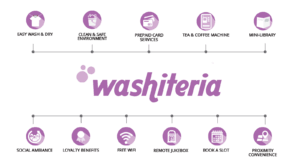 Franchise Details of Washitera
Washiteria is a self-service Laundromat where you are invited to bring your everyday laundry and enjoy multi-fold conveniences. While you are at the store you may enjoy the convenience such as beverages, free Wi-Fi, board games, books, and music.  Also, Washiteria machines provide superior quality of wash & dry and increase the shelf life of your clothes.
It is shortly launching outlet in Navi Mumbai.
Franchise area required: 250 sqft
Franchise investment: Rs12-25Lacs
If you are interested in open Washiteria in your area.
Free for the call at 7827719099
Email: franchisebatao@gmail.com